A multi-million dollar disaster(s) area is this the "new normal" in Colorado Springs?
The most brutal storms across the world all occur next to mountain ranges. Colorado Springs residents already know this and are probably sick and tired of hearing about it. To make matters worse, the hail in Colorado Springs isn't just costly and aggravating, it is downright dangerous. Softball-sized hail is nothing to joke about. Vehicles don't simply get bumpy from hail damage, they get completely destroyed. Animals die and people are severely injured.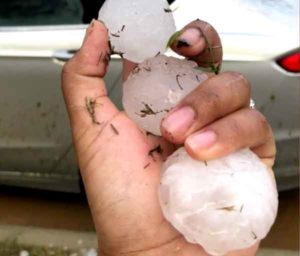 You know it's bad when:
Large hailstones injured at least eight people at the Cheyenne Mountain Zoo.
The zoo said three animals – two vultures and a duck – were killed by the hail.
Colorado Springs reported softball-sized hail.
The hailstorm lasted about 15 minutes.
$172.8 million in damage from one hail storm.
AND all of these statistics were from one storm – August 6, 2018.
But wait, there's more.
The above-stated storm that raked in $172.8 million dollars in damages pales in comparison to the July 2016 storm that cost Colorado Springs' residents & businesses a staggering $352.8 million in damage to vehicles, homes and other property.
Why is Colorado Springs a hotbed for hail?
If you have lived ANYWHERE in Colorado for an extended period of time, you know that they are part of what's known as "Hail Alley." What you might not know is, nowhere in the US gets more severe hail storms than the Front Range.
The experts say this:
There's something in the air.  "Colorado's mix of high altitude and dry air is hail heaven. For those icy stones to form, strong, dry winds have to carry water up and up to the higher, colder parts of the atmosphere and hold them there." – CPR.com (Colorado Public Radio), former state climatologist Nolan Doesken interview.
Strong vibes. "Just like the Colorado Rockies, the Coors Field park, home runs go further, hail's going to hit the ground a lot faster when it hits the ground in Denver versus when it hits the ground at sea level. It's based on a calculation of kinetic energy resulting in Colorado hail being about 8 percent more damaging." – National Weather Service Meteorologist Paul Schlatter, 9 News.
Baby, it's cold outside. "The freezing levels (the area of the atmosphere at 32 degrees or less) in the high plains are much closer to the ground than they are at sea level, where hail has plenty of time to melt before reaching the ground." – National Severe Storms Laboratory
Big hail babies? "Hailstones don't form or grow very big without massive amounts of air billowing up from below. These updrafts keep the embryonic stone aloft long enough to gather up water into an ice ball, and the stronger the updraft, the bigger the stones can grow. Hailstones can spend a half hour forming in clouds, with the absolute largest in the strongest updrafts taking close to an hour. Mountainous areas — such as Colorado's Rockies — promote these updrafts by acting as elevated heat sources that pump warm air from the ground high up into the atmosphere." – Andrew Heymsfield, a hail expert and colleague of Knight's at NCAR, Denver Post.
What can Colorado Springs residents do?
Needless to say, there is nothing that can be done to calm Mother Nature's temper tantrums that seem to be directed at Colorado a but there are some things you can do to protect yourself, your vehicles, property, and home.
Consider Comprehensive Coverage. Let's face it, there will inevitably be more hail in Colorado Springs' future. If you haven't upgraded your Full Coverage policy to Comprehensive Coverage, you should seriously think about it. Comprehensive Coverage pays for damage caused by occurrences that are out of your control…like hail damage. If your vehicle gets hail damage, you're covered.
Vehicle Coverage. If you don't have a garage, you might want to think about that too. Carports are OK but hail does fall sideways in Colorado Springs, we've seen it happen.
Plan accordingly. The Colorado and South Dakota hail season is April 15 to September 15. Devise an escape route. If your place of employment doesn't offer covered parking, find some nearby. Do this BEFORE disaster strikes. Car washes, gas stations, and, parking garages are a good place to start.
Auto Hail Zone can help.
Auto hail repair is our specialty. We've seen the worst and can repair what most Colorado Springs body shops and other paintless dent repair shops can't. Since 1991 we have worked in the paintless dent removal business and we provide excellent customer service.