Your Trusted Local
Auto Hail Repair & PDR Specialists in
Colorado Springs
Specializing in Auto Hail Damage Repair Since 1991
Are you tired of spending your nights and weekends worrying about dents & dings? We know that experiencing hail damage to your vehicle is neither fun nor pleasant, which is why Auto Hail Zone is here for you every step of the way in your Auto Hail Repair needs. In Colorado Springs, CO, our team of professionals focuses on making the entire hail repair process as pleasant and worry-free as possible. So, you can rest easy and have peace of mind knowing that your automobile is receiving quality care from certified Paintless Dent Repair (PDR) Technicians. When you're looking for a top-notch Paintless Dent Repair (PDR) facility, we are your premier shop of choice for hail damage and minor dent and ding repairs.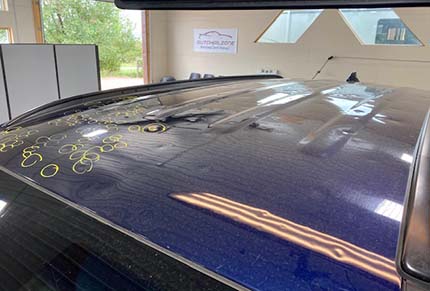 Paintless Dent Repair (PDR) allows us to repair your vehicle faster than traditional repair methods. We can get youon the road faster and dent-free.
Great news for our customers because you will have your hail-damaged vehicle repaired and back much more quickly than a conventional body shop.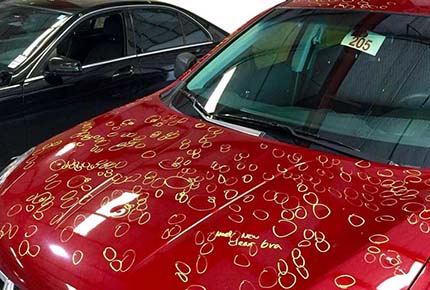 Prefer we come to your home or workplace for a hail damage assessment? Call or schedule online now for immediate assistance.
Auto Hail Repair with PDR reverses the effects of a hail storm.
Dents don't stand a chance. Paintless Dent Repair is a repair method used to restore hail damage back to pre-hail condition by a certified Paintless Dent Repair Technician. PDR is a specialized repair process using quality, hand-crafted tools to massage hail damage and dents back into place, leaving your vehicle looking as good as it did before the damage or hail storm. PDR is also a preferred method of repair by insurance companies due to less repair time than a conventional body shop which means you will be back in your newly repaired vehicle in just a few days. Why take your vehicle to a conventional body shop where panels are replaced, roofs cut, Bondo fillers used, and, not to mention, the out-of-pocket deductible expense you will be required to pay? We work closely with all insurance companies so there is no out-of-pocket expense for you to pay in getting your hail damage repaired, not even your deductible.
* Deductibles covered, up to $500 but may qualify for higher deductibles being covered, dependent upon the amount and type of damage.
** Rental coverage determined on a case by case basis.