Paintless dent repair (PDR) is a process in which dents and dings, primarily caused by hail, shopping carts, and carelessly opened car doors, are removed from a vehicle. Compared to traditional panel shop repair methods, the PDR technique does not affect the paint, eliminating the need to replace panels, use body fillers or repaint the vehicle.
As a result, you are not required to leave your vehicle for days or even weeks waiting for the repairs to be completed. In most cases, we can repair your hail damaged vehicle in as little as 5-7 business days.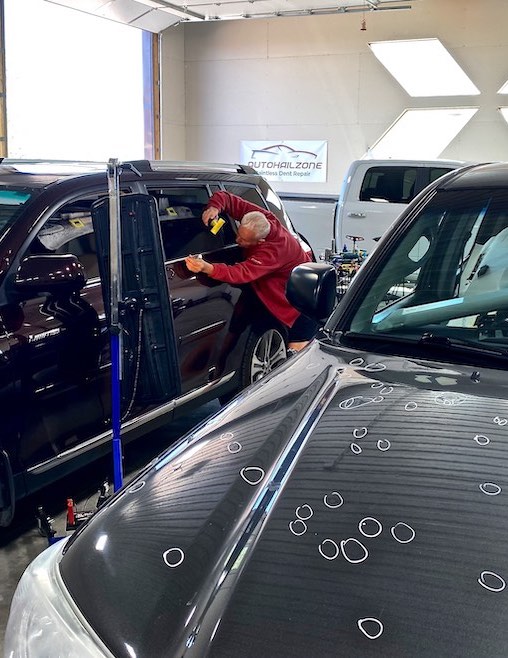 What is Paintless Dent Repair (PDR)?
Paintless Dent Repair (PDR) is a technique used to remove hail damage, minor dents and dings from vehicles by a highly skilled and certified Paintless Dent Repair Technician. Specially designed and handcrafted tools are used to massage different types of damage back into place, leaving your vehicle looking as good as it did before the damage occurred.
Our PDR Technicians are highly skilled and certified, which gives Auto Hail Zone the advantage over other Paintless Dent Repair Companies. Brian Moore, Owner of Auto Hail Zone, I-CAR and Vale National Certified Master Craftsman Paintless Dent Repair Technician, has come a long way since opening his very first paintless dent repair shop back in 1991. Early on, when the paintless dent repair technique barely existed, Moore was one of the early PDR techs to help facilitate the acceptance of paintless dent repair with insurance companies as a viable method of repair for auto hail damage. From shorter repair times to preserving the vehicle's original paint warranty, insurance companies quickly realized how much quicker PDR was over a traditional auto body shop for dent repair.
Why is PDR the Best Solution for Auto Dent Repair?
Auto Hail Repair with PDR reverses the effects of a hail storm. There are multiple reasons why paintless dent repair is the #1 preferred method for dent repair by vehicle manufacturers and insurance companies. A body shop will typically just "fill" in the dent and repaint or often replace a panel which will depreciate the value of your car. PDR works the dent back to its original shape to keep the manufacturer's warranty intact. Other reasons to consider Paintless Dent Repair are:
Maintain the original manufacturers' paint warranty.
Save time.
Preserve resale value.
Environmentally safe & friendly.
Avoid negative CARFAX history reports.